I'll so offend to make offence a skill, Redeeming time when men think least I will.
Prince Hal, Act 1, Scene 2
King Henry IV is desperate to assert his legitimacy to the English crown having deposed his cousin, Richard II.
He faces, political opposition, the constant threat of rebellion, and all- out war, but his deepest concerns are closer to home. His son and heir, Prince Henry (Hal), leads an undignified life, shirking responsibility and frequenting taverns with his friend, the loveable drunkard, Sir John Falstaff.
Making amends with his father, Hal proves his worth in the battle of Shrewsbury, killing the defector Hotspur and helping ensure his father's success. But victory in one battle does not ensure King Henry's stability and this play paves the way for a sequel where the struggles of the royal family continue, punctuated liberally with the misadventures of Falstaff.
Henry IV Part 1 and 2 are the central plays of Shakespeare's second historical tetralogy. They are well-known for featuring Shakespeare's finest comedic triumph, the lovable and tragic rogue Falstaff, and charting the origin story of England's greatest war hero, Henry V.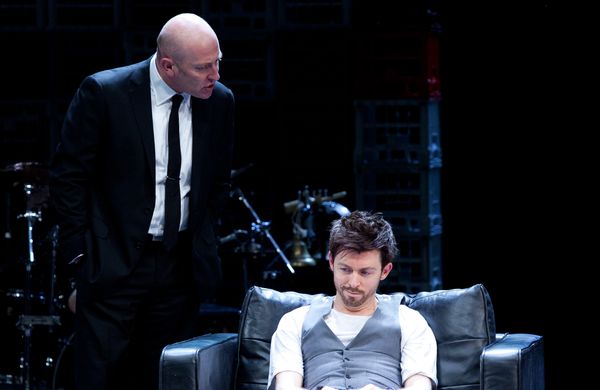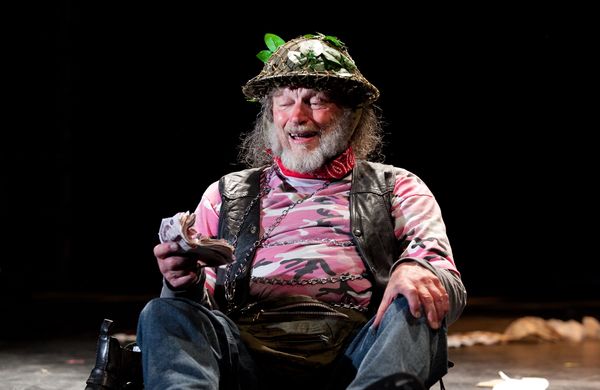 Read synopsis in full

Read synopsis in full
I'll so offend to make offence a skill
Redeeming time when men think least I will.
Prince Hal, Act 1, Scene 2
King Henry IV of England is aging and guilt-ridden.. Weary from years of civil unrest and seeking atonement and legitimacy after the deposition of his cousin Richard II, he plans to lead an expedition to Jerusalem to join a crusade to claim the Holy Land in the name of Christianity. Henry announces, however, that this will have to be postponed because England is under attack from forces closer to home.
On the Welsh border King Henry's forces have been defeated, and the loyal Mortimer is imprisoned and held for ransom by the Welsh Rebel, Owen Glendower. While to the north, English forces led by Henry (Hotspur) Percy have won a gallant victory. The bravery and skill of Hotspur puts the King in mind of the apparent failures of his own son, Prince Henry (or 'Hal' as he is known) and he admits he is envious of Hotspur's father, Lord Northumberland. However, King Henry is simultaneously furious with Hotspur's refusal to hand over the Scottish prisoners taken during the battle. These are very valuable prisoners on account of the ransom they could attract.
Meanwhile Prince Hal, the heir to the English throne, spends his days drinking and carousing among some of London's most unsavoury characters, to the extreme disappointment of his father. Chief among them is the lazy, drunk, cunning professional criminal Sir John Falstaff. Hal seems to relish this nihilistic high-life, but alone on stage he tells the audience he is cleverly biding his time until his "glittering reformation" (Act 1, Scene 2).
When King Henry confronts Hotspur and Northumberland about the Scottish prisoners, Hotspur becomes enraged at the suggestion that his brother-in-law, Mortimer, is in-fact a traitor and therefore there will be no ransom paid to free him from Glendower. King Henry, however, still demands that Hotspur release the Scottish prisoners to him so he can claim the ransom for them. Hotspur is furious that Henry seems to have forgotten the once strong allegiance between the Percy family and the Throne, and the key role they played in overthrowing Richard II. Hotspur's uncle, The Earl of Worcester, takes advantage of Hotspur's anger to propose an insurrection. Worcester suggests that The Percies should in fact join forces with the Scottish and the Welsh, and together with powerful English nobles who are also dissatisfied with King Henry, raise an army to claim the throne.
Falstaff: Banish plump Jack, and banish all the world.
Prince Henry: I do, I will.
Act 2, Scene 4
Blissfully ignorant to the growing unrest threatening his family, Prince Hal takes part in a double robbery at Gad's Hill along with fellow tavern-dwellers Falstaff, Peto, Poins and Bardolph. But the whole thing is designed as a trick on the unsuspecting Falstaff. Poins has devised a plan whereby some of the crew will rob travellers on the road to London, and then he and Hal will later rob the money from their friends. They are convinced that Falstaff is a coward and will put up very little resistance, and this is exactly what happens. When they are all reunited at the tavern Falstaff tells wild stories of being robbed by hundreds of assailants. His lies are exposed however when Hal and Poins admit it was they who robbed the others, and Falstaff is mercilessly teased. Falstaff cleverly claims he knew it was the Hal all along and didn't fight back because it would not be appropriate for him to assault the heir to the throne. Their antics are interrupted by a messenger from the King bringing news of the impending civil war and demanding Hal's return to court.
Hal and Falstaff take turns impersonating King Henry so that Hal can practice what he might say when he sees his father, and on his turn as King Hal, threatens Falstaff with banishment. Moments later, Hal protects his friend when the Sherriff comes looking for the perpetrators of the morning's robbery.
For every honour sitting on his helm
Would they were multitudes and on my head
My shames redoubled!
Prince Hal, Act 3, Scene 2
The Percies have gathered a formidable group of allies, but in-fighting and fear sees the alliance begin to falter. When Hotspur receives a letter from the Archbishop of York withdrawing his support, the Percies are forced to rush into war for fear he might expose their plans to the King.
Prince Hal returns to a sorrowful and angry King Henry who is unrelenting in his criticism of his son. He tells Hal that he has destroyed his reputation by living a life of such public indulgence, then makes comparison between Hal and Richard II. However, the final for straw for the Prince is when his father says that the valour and courage displayed by the now rival Hotspur, runs more in line with the expectations of a true leader and might actually give the hot-headed Percy a stronger claim to the throne. Because of this, Hal's reformation is prompted, his wild ways abandoned, and he vows to accompany his father into battle.
Hal returns to the Tavern and his friends where he addresses them for the first time as a leader, rather than an equal. He tells them they all have obligations and duties in the war, and even Falstaff is assigned leadership of a brigade of soldiers.
This sickness doth infect
The very life-blood of our enterprise.
Hotspur, Act 4, Scene 1
At camp in Shrewsbury, the rebel alliance receives even more bad news. Northumberland, Hotspur's father, is too sick to lead his forces into battle, and Glendower will not make it there in time. This is a huge blow but Hotspur is undeterred, and is eager to find and face Prince Hal on the battlefield, one on one. Even when King Henry sends an offer of peace and amnesty, Hotspur is focused only on his fury at what he sees as the betrayal of his family by the Crown.
Falstaff and his small battalion are on their way to the battle. The corrupt Falstaff confides in the audience of his cunning money-making plan whereby, rather than conscripting the best fighters, he has taken the sons of wealthy families who then bribe him to allow their boys to stay home. As a result he has made some quick cash, but now all he has to show for it is a ragtag bunch of malnourished, unskilled delinquents. Nonetheless, he says they will fulfill the chief requirement of a soldier, which Falstaff believes is to die in a pit. Elsewhere in England, Hotspur's allies have become nervous. The Archbishop of York is convinced that the King's forces are too strong and he fears how he will be punished for supporting Hotspur if the rebellion fails. He sends urgent letters to his rebel allies urging the importance of the outcome of the battle at Shrewsbury.
The better part of valour is discretion.
Falstaff, Act 5, Scene 4
On the morning of the battle, Prince Harry offers to fight Hotspur one on one rather than send thousands of men into war. But Worcester lies to Hotspur about this offer and tells him instead that King Henry and Prince Hal mocked the Percies. Hotspur is furious, and orders his troops to prepare for battle.
The famous battle of Shrewsbury begins. It does not go well for the rebels. In the midst of the fighting, Prince Hal saves his father from certain slaughter at the hands of Douglas, then finds Hotspur and mortally wounds him after a long fight. Falstaff spends much of the conflict lying on the ground pretending to be dead, but then claims that it was in fact he who killed Hotspur.
Prince Hal has regained the affection and respect of his father. The rebels retreat and King Henry claims a famous victory, but all is still not well. Henry may have proven himself and defeated Hotspur, but there is still the matter of Northumberland in the North and Glendower in Wales. King Henry divides his forces and sends them around the country to continue the fight against all the forces of the rebellion.
Key Characters
Find out all about the characters in Henry IV Part 1.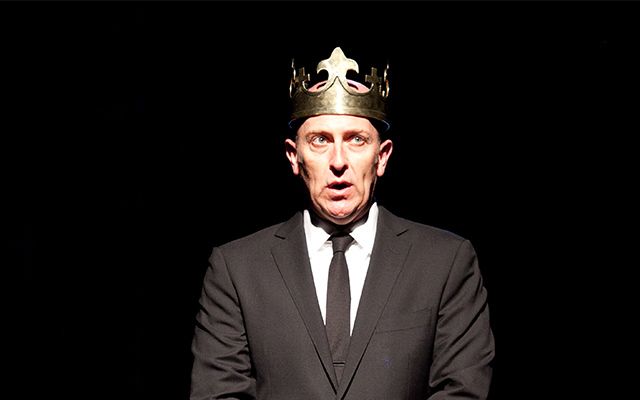 Fast facts
Henry IV was the first ever English King who spoke English as his first language.
This was probably due to the fact that he was a usurping King and not raised as an immediate heir to the throne.

Themes
Discover the key themes explored in Henry IV Part 1, with examples from the play.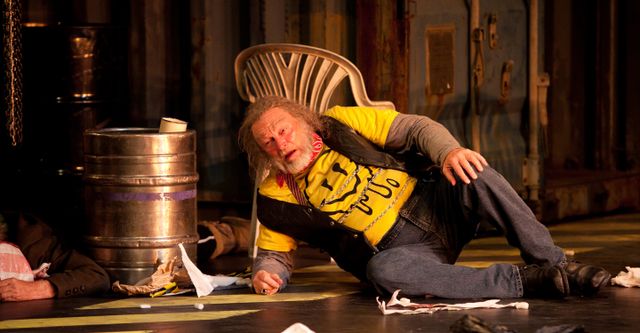 Debatable points
Did Shakespeare fall out with Falstaff?
Falstaff was a huge hit with Elizabethan audiences, but it seems he had a much rockier relationship with his creator.
Imagery
Discover how Shakespeare's uses vivid visual imagery in Henry IV Part 1.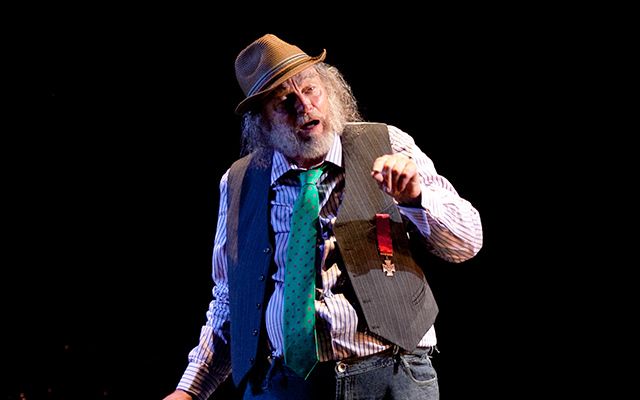 Prince Hal and Shakespeare's 'New' Men.
John Bell on Henry IV
It is easy for a young actor to identify with these aspects of Hal – the resentful teenager rebelling against an autocratic father yet desperately seeking his approval; what amounts to a sibling rivalry with the show pony Hotspur, and the desire to escape the close confines of stuffy respectability and sow a few wild oats. It seems to be the destined path for many a Prince of Wales.