One reason for Shakespeare's enduring popularity is that nothing is ever clear cut in his plays. Few characters are purely good or purely bad. There is light and shade in every scene. So when we asked our expert panel to pick their favourite moments of happiness in Shakespeare, they often chose short-lived moments of relief during otherwise troubled times. Today's selections provide perfect examples of this.
Compiled by Andy McLean
Join the debate
Which moment in Shakespeare makes you grin from ear to ear? Do you agree or disagree with the experts' selections? Share your view on Twitter, Facebook, Instagram or LinkedIn.
4. The reunion of Stephano and Trinculo
The early scenes of The Tempest are pretty bleak, but a brief and shining moment of levity is delivered from the most unlikely of sources: Stephano and Trinculo. "They're pretty despicable characters," admits Bell Shakespeare Resident Artist in Education Huw McKinnon. "But before the audience discovers their villainy, there is this moment of pure joy in Act 2, Scene 2."
Stephano and Trinculo have just experienced a traumatic shipwreck and been separately washed up onto a strange island – each assuming they are the sole survivor. "One of them is scared out of his wits, the other is a bit toasted, but then – in their moment of despair – they stumble across one another," explains McKinnon. "They're both as stupid as one another, which makes the whole moment as uncynical as it could be. All they need in the world is each other. Once they meet, their whole perspective changes.
"As an audience, we can totally relate to that. If you're in a dark street in the middle of the night and you're alone then it's terrifying. If you're there with your best friend then it's kind of a lark. And that's exactly how it feels for Stephano and Trinculo on that island."
3. The Comedy of Errors lurches from discord to delight
The last Act of The Comedy of Errors ratchets up the characters' disagreements and confusion before finally resolving everything. As we swing from bitter arguments into love and forgiveness, the whole theatre breathes a collective sigh of relief. Husbands and wives are reconciled. Families are reunited.
No wonder actor Julia Billington picked this as her happiest moment in Shakespeare: "I can't go past this huge reunion at the end of The Comedy of Errors," she says. "Not one but two sets of long-lost twins have been separated for 25 years and then we see them together again, at last. It's such an explosion of joy!"
The final words of the play sum up the quiet wonder we are witnessing. Tentatively, the Dromio twins reacquaint themselves with one another and the unique bond they share. They resolve to leave the stage in the same way they began their lives: together: 'We came into the world like brother and brother, / And now let's go hand in hand, not one before another.'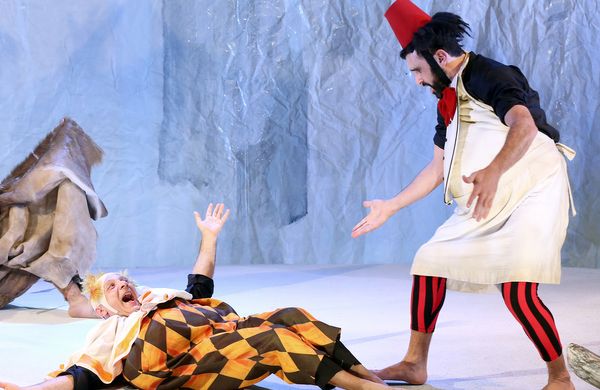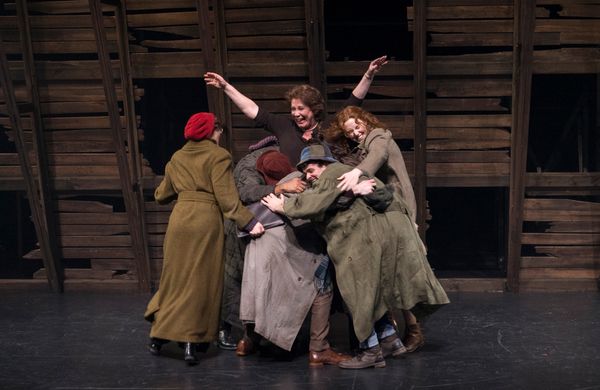 2. Suddenly, the Mechanicals are inundated with good news
Towards the end of A Midsummer Night's Dream, the loveable tradies (known as The Mechanicals) are at their lowest ebb. "They fear the worst," explains Bell Shakespeare Associate Director James Evans. "They're wannabe actors but have started to give up on the dream of performing a play at the royal wedding and – worse still – they think they've lost their beloved friend Bottom forever."
Everything changes in the blink of an eye when Bottom suddenly reappears, says Evans. "Bottom says: 'Where are these lads? Where are these hearts?' and it's just delirium from there. Quince says 'Bottom! O most courageous day! O most happy hour!' Bottom and his fellows are so joyful they can hardly get the words out fast enough."
Bottom's friends urge him to fill in the blanks of what happened to him in the woods but he's got something even better to tell them: their play has been selected for performance at the wedding. This wonderful, boisterous moment really resonates with Bell Shakespeare Artistic Director Peter Evans: "Working in the theatre, I completely connect with the joy and terror in that scene. They're thrilled to discover that they're going to perform their play, and then the reality of that hits them and they're quite daunted too!"
Bell Shakespeare will stage the world premiere of The Lovers – a musical inspired by A Midsummer Night's Dream – at the Sydney Opera House from 23 October to 20 November.
Read part one in our series of happiest moments in Shakespeare.

To be continued…
Stay tuned on social media in the coming days as we reveal the gem that tops the list of happiest moments in Shakespeare. Follow us on Twitter, Facebook, Instagram and LinkedIn.
Keep in touch
Sign up to a range of Bell Shakespeare enewsletters