SPEED READ
A quick flick through The Comedy of Errors
Blink and you'll miss it. Shakespeare's shortest play spans a single day and night in the city of Ephesus. Several visitors from a rival city, Syracuse, risk everything by sneaking around Ephesus, searching for long-lost relatives. That's easier said than done because mixed up in all this are two sets of identical twins who share the same names. As day turns to night, chaos and confusion reign. Family members are repeatedly mistaken for one another, prompting claims of betrayal, declarations of love, accusations of lunacy, and allegations of theft. By dawn, a number of characters face prison (or worse) before a local nun puts two and two (and two) together, to reveal who is who and reunite the family members.
The Comedy of Errors is touring Australia from 1 July. Book tickets here.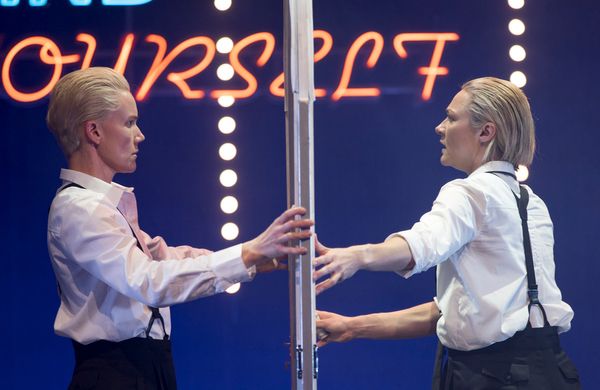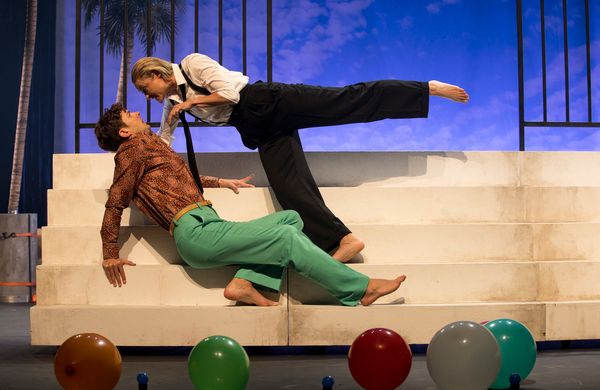 FAMILY (MIS)FORTUNES
The Comedy of Errors character lowdown
Duke The ruler of Ephesus is fair minded but, ultimately, her hands are tied by the law which she is duty-bound to enforce.
Egeon A merchant of Syracuse who (illegally) dabbles in a bit of business in Ephesus. Years ago, a shipwreck separated him from his wife and one of his twin sons.
Antipholus of Syracuse Adult son of Egeon, Antipholus is searching for his identical twin brother, from whom he was separated as a baby. As a Syracusan creeping around the enemy territory of Ephesus, he's understandably jumpy and paranoid.
Antipholus of Ephesus The long-lost twin son of Egeon has grown up to become a respected merchant in Ephesus, with friends in high places (the Duke among them). Antipholus is prone to temper tantrums with servants, and flirtations with courtesans, but it's his wife Adriana who wears the trousers. (Handy hint: This Antipholus doesn't pop up in the play until Act 3.)
Adriana Passionate and hot-tempered wife of Antipholus of Ephesus. She's unimpressed with the patriarchy of Ephesus, suspicious of her husband's frequent absences, and unafraid to speak out.
Luciano Adriana's brother is a serial singleton who desperately wants to "learn to love". In many ways, Luciano is more conservative than his fiery sister – although he shares a remarkably similar taste in men.
Dromio of Syracuse Loyal, wisecracking, and long-suffering servant of Antipholus of Syracuse. Dromio has a long-lost identical twin.
Dromio of Ephesus Brow-beaten servant to Antipholus of Ephesus, who routinely gets caught in the crossfire between his master and Adriana. Identical twin of Dromio of Syracuse.
Emilia After the trauma of losing her husband (Egeon) and her sons (the Antipholus twins), Emilia found God and now runs a nunnery in Ephesus. She offers some (occasionally misguided) marriage counselling to the locals.
Courtesan A call girl who may or may not have a thing going with Antipholus of Ephesus (depending on who you ask). Certainly, it is the Courtesan who Antipholus turns to when his wife locks him out of the house.
NIGHT FEVER
We have to admit, it was an absolute blast at Bell Shakespeare HQ during rehearsals for this version of The Comedy of Errors. Director Janine Watson and her creative team have set the production in the neon-lit 1970s, with a soundtrack and wardrobe to match.
As well as reminiscing about sideburns, maxi dresses, and Holden Toranas, we couldn't resist revisiting some weird and wonderful Shakespeare performances from the 1970s. What a treasure trove! This was the decade when Helen Mirren played Rosalind in As You Like It, Alan Rickman played Tybalt in Romeo & Juliet, and Laurence Olivier played Shylock in The Merchant of Venice. Also: James Earl Jones was King Lear, Charlton Heston was Julius Caesar, and when Judy Dench wasn't starring opposite Ian McKellen in Macbeth, she was playing Adriana in The Comedy of Errors.
Oh, and The Fonz even played Hamlet in an episode of Happy Days. Strange, but true!

LOVE REALLY HURTS WITHOUT YOU
While there's no shortage of mishaps and laughter in The Comedy of Errors, this is also a play about love, separation and – ultimately – reunion. These themes packed the same punch in Shakespeare's time as they do today. Like us, his audiences experienced enforced separations due to plague, when loved ones were kept apart and theatres had to temporarily shut their doors.
It's not hard to imagine the sense of catharsis that Shakespeare's audiences must have felt when watching family and lovers reunited on stage at the end of The Comedy of Errors. In fact, today it all feels particularly close to home. At Bell Shakespeare, this production of The Comedy of Errors was first scheduled for 2020 – before the COVID-19 pandemic forced its postponement. The cast, crew and whole company are thrilled to finally get together and share this production with audiences.
SAY WHAT?
Post-show conversation starters to make you look smart
Down the years, productions of The Comedy of Errors have been a star magnet. Acting luminaries like David Tennant and comic legends like Lenny Henry have performed in the play – and The Who's lead singer Roger Daltrey even played both Dromio twins in a 1983 BBC TV production.
When we said this is Shakespeare's shortest play, we weren't kidding. The Comedy of Errors contains fewer than half the lines (1,786) of Hamlet (4,024). Perhaps this is what John Mortimer meant when he reputedly wrote: "Farce is tragedy played at a thousand revolutions per minute".
India has an enduring love affair with The Comedy of Errors. The play has spawned a succession of interpretations, including a 1982 movie (Angoor), a 1968 Bollywood musical (Do Dooni Chaar), and a 1963 movie (Bhranti Bilas, based on an 1869 play of the same name).
Ephesus was a city in ancient Greece that pops up several times in the Bible. St Paul's Epistle to the Ephesians contains sage advice about how husbands, wives, masters, and servants should toe the line and conduct themselves. (You could argue that The Comedy of Errors shows what happens when that advice is ignored!)
The Comedy of Errors is one of Shakespeare's earliest plays. It's a window into the mind of a young dramatist full of ambition and learning his craft. In this play, we see career-long obsessions emerge, such as family estrangements (and reunions), whip-smart women, shipwrecks, mistaken identity, and punny wordplay.
Curiously, The Comedy of Errors is one of only two Shakespeare plays to obey the ancient "classical unities" of action, place and time. This means a play contains one main "action" with few subplots; the story is told in a single place (Ephesus); and events all unfold within 24 hours. Shakespeare didn't return to this approach until The Tempest, which may be his final solo-authored play.
Compiled by Andy McLean
FIND OUT MORE
Check out our detailed breakdown of The Comedy of Errors, featuring videos, photos, fun facts, themes, classroom activities, and more.