If music be the food of love, play on...
Orsino, Act 1, Scene 1
Identical twins Viola and Sebastian, separated during a shipwreck, arrive in the city of Illyria.
Viola, disguised as a man, goes to work for Duke Orsino and falls in love with him. Orsino is in love with a countess named Olivia, but Olivia falls in love with the disguised Viola. Malvolio, Olivia's servant, is tricked into believing she loves him.
A romantic comedy exploring obsession, longing, disguise and cruelty, Twelfth Night is, above all, a play about love – requited and unrequited. It's a play that allows its audiences to reflect on the many diverse kinds of love and how love affects us. Written around 1601–1602, it is one of Shakespeare's most notably musical plays.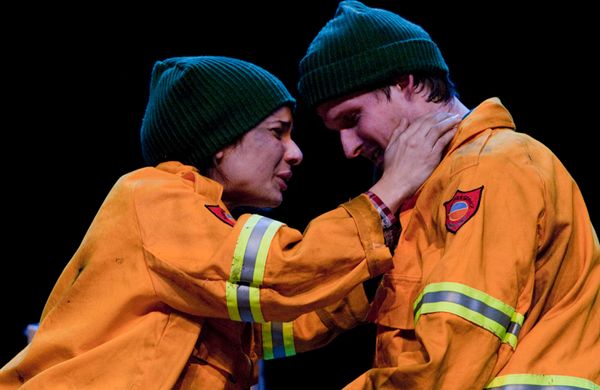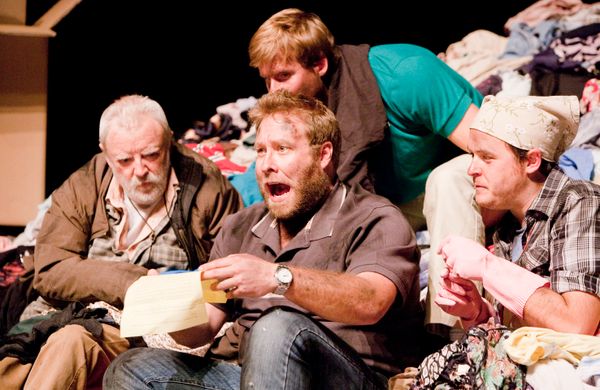 Read synopsis in full

Read synopsis in full
What country, friends, is this?
Viola, Act 1, Scene 2
The play opens with Orsino, Duke of Illyria, who is listening to music and ruminating on love. Orsino is a romantic, and is awaiting a response from Countess Olivia, the woman he desperately loves. Olivia does not return the sentiment. She is in mourning for her recently deceased brother and has committed to remaining unseen for seven years.
Meanwhile, on the shores of Illyria, a young woman, Viola, a Captain and sailors emerge miraculously unscathed from a shipwreck. Viola laments her separation from, and likely death of, her twin brother, Sebastian. She is wary of this new country the Captain names 'Illyria' and asks him to take her to Duke Orsino so she can find safe employment until she figures out her next move. Unsure whether Illyria will be a place kind to a young woman, she decides to disguise herself as a man named Cesario.
Next we meet Olivia's uncle, Sir Toby Belch, who is drunk and being chastised by her gentlewoman, Maria. His friend, Sir Andrew Aguecheek, joins the conversation, bemoaning the fact that Olivia, who he's also been attempting to woo, is not interested in him.
Viola, disguised as Cesario,, is swiftly welcomed into the role of Orsino's servant and confidante. She becomes the go-between in his romantic pursuit of Olivia. Viola very quickly realises that she has romantic feelings for Orsino, complicating her employment. Despite Olivia's decision to remain in mourning, she is intrigued by Viola-disguised-as-Cesario's behaviour. Olivia quickly falls in love with Cesario and tries to trick 'him' into returning to see her.
What is love? 'Tis not hereafter;
Present mirth hath present laughter.
Feste, Act 2, Scene 3
Back on the shores of Illyria we meet Viola's twin brother, Sebastian, whom she believes to be dead. He's been rescued by another sea captain, Antonio. Sebastian makes his way to Orsino's court, leaving behind Antonio who's concerned about encountering personal enemies in Illyria.
In order to get Cesario to come back. Olivia sends her puritanical servant, Malvolio, to 'return' a ring Viola-as-Cesario purportedly left behind. At first confused, Viola interprets this gesture as Olivia having fallen for Cesario, but concludes, 'O time, thou must untangle this, not I! It is too hard a knot for me to untie.' (Act 2, Scene 2)
Olivia's uncle, Sir Toby, and his friend, Sir Andrew, are up late drinking and being obstinately rowdy, much to the chagrin of Olivia's servants. Malvolio in particular expresses his displeasure at their behaviour: "My masters, are you mad?" (Act 2, Scene 3). Sir Toby, Sir Andrew and Olivia's gentlewoman, Maria, decide to have their revenge on the puritanical Malvolio. They plan to convince Malvolio that Olivia is in love with him by forging a letter in her handwriting.
Viola-as-Cesario discusses the nature of love with Orsino. She hints that she too is in love as Orsino grapples with the unrequited feelings he has for Olivia. He asks Viola to entreat Olivia once again on his behalf.
Sir Toby, Sir Andrew, Maria and Fabian, another servant, execute their plan to dupe Malvolio by means of the forged letter. The letter quickly fools Malvolio into believing Olivia is in love with him, "…for every reason excites to this, that my lady loves me." (Act 2, Scene 5). Believing Olivia particularly loves his yellow stockings, Malvolio decides to put them on and woo her.
Why, this is very midsummer madness.
Olivia, Act 3, Scene 4
Viola-as-Cesario returns to Olivia to once again plead on behalf of Orsino. Instead, the exchange ends with Olivia admitting her love for Cesario: "I love thee so that, maugre all thy pride, / Nor wit nor reason can my passion hide." (Act 3, Scene 1)
Sir Andrew, finally unable to deny Olivia's lack of interest in him, decides that he is going to leave. Sir Toby and Fabian, realising that this signals the end of their free drinks, convince Sir Andrew that Olivia is doing this only to bait him to fight Cesario for her love. Sir Andrew agrees to challenge Cesario for, as Sir Toby says, "…there is no love-broker in the world can prevail in man's commendation with woman than report of valour." (Act 3, Scene 2)
Meanwhile, Sebastian has ventured into Illyria accompanied by Antonio who, despite his initial fears, is compelled to follow out of love – a love that may be friendship, paternal, or perhaps romantic. Antonio gives Sebastian his purse in case he finds himself in need and retires to the inn where they will reunite for lunch.
Olivia, desperate to see Cesario once more, encounters Malvolio who is in turn desperate to reveal his affection for Olivia. She is baffled by Malvolio's behaviour and asks Sir Toby and others to lock Malvolio up "in a dark room" (Act 3, Scene 4), an apparent treatment for insanity.
Sir Andrew shows Sir Toby, Fabian and Maria the challenge he has penned to bait Cesario into a duel. After once again denying Olivia's love, Viola-as-Cesario is warned by Fabian and Sir Toby that Sir Andrew wishes to fight him.
For their own amusement they then bait Sir Andrew into believing that Cesario is a deadly opponent. The two combatants finally and unwillingly approach each other to fight, but as soon as Sir Andrew draws his sword, Antonio enters and, believing the disguised Viola to be Sebastian, steps in to defend his friend. He is immediately recognised as an enemy to Orsino and is restrained. He begs Viola-as-Cesario for assistance and the return of his money but, as he's unknown to her, Viola denies him. As Antonio is dragged away, Viola suddenly realises that perhaps he has mistaken her for Sebastian, and that perhaps her brother is alive.
I am mad, or else this is a dream.
Sebastian, Act 4, Scene 1
The real Sebastian is intercepted by Sir Toby, Feste and Sir Andrew, who strikes him. The fight escalates and just as Sir Toby draws his sword, Olivia enters. She chastises her uncle for drawing his sword on Sebastian, whom she believes to be Cesario, and asks Sebastian to accompany her back to her house. Sebastian, shocked by her affection, obeys immediately.
Sir Toby, Maria and Feste conspire to further confuse and exasperate Malvolio, who has been detained. They devise a plan to dress Feste in a priest's robes and have him chastise Malvolio, teasing that he has the power to release him, but will not do it. Fearing the wrath of Olivia, Sir Toby says it is time for this jest to come to its end. He leaves the cell with Maria, while Feste remains to taunt Malvolio a little while longer, before offering him assistance. He hands Malvolio materials to write a letter, begging for his release, which Feste takes to Olivia.
Meanwhile, Sebastian and Olivia decide to sanctify their relationship before a priest.
One face, one voice, one habit, and two persons...
Orsino, Act 5, Scene 1
The disguises and mistaken identities cannot hold for much longer. Feste possesses the letter Malvolio intends for Olivia. Orsino arrives with Cesario in tow, to seek Olivia. Antonio is then brought before Orsino where he tries to explain his connection to Sebastian (whom he mistakes for Cesario). Olivia arrives, revealing to Orsino that she is married to who she believes to be Sebastian (who is, again, in fact Cesario). Orsino is furious with Cesario: "O thou dissembling cub!" Cesario denies Olivia's claim and, shocked, Olivia calls in the priest to verify their marriage.
Sir Andrew arrives, calling for a surgeon, as he and Sir Toby have been attacked by Sebastian. Like the other characters in the scene, they also mistake Cesario for Sebastian. Finally, the real Sebastian arrives to reveal the mistaken identity that has confused everyone. Viola and Sebastian are reunited, the true identity of Olivia's new husband revealed, and Orsino, realising his own feelings, asks for Viola's hand in marriage: "Here is my hand: you shall from this time be your master's mistress." (Act 5, Scene 1)
The final moment of the play revolves around the humiliated Malvolio. Olivia finally reads his letter and sorts out the truth from the pranks and lies. Malvolio si embarrassed and outraged, storming off with the promise: "I'll be revenged on the whole pack of you." (Act 5, Scene 1) Olivia acknowledges that Malvolio has been "most notoriously abused." The play ends, with the two happy couples – Olivia and Sebastian, Orsino and Viola – and a song to close the play and end the story.
Fast facts
'Twelfth Night' refers to the twelfth night after Christmas, a celebration also known as 'Epiphany Eve.'
Falling on the 5th of January, the holiday is associated with disguise, misrule, and the idea of turning the world and societal order on its head for one night.
Themes
Discover the key themes explored in Twelfth Night, with examples from the play.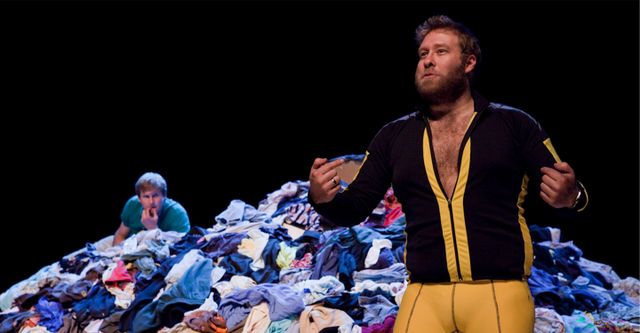 Debatable points
Does Malvolio deserve his treatment?
While making fun of the strict puritanical character, a figure Shakespeare and his contemporaries would have been all-too familiar with, Shakespeare does appear to push the baiting beyond the realms of 'fair play.'