I am not what I am.
Iago, Act 1, Scene 1
Othello, a respected general of the Venetian army, has married Desdemona in secret.
Her father rejects the union as Othello is a Moor, but the couple prove their love for each other and the Duke allows it.
That same night, Venetian troops led by Othello are called to a military base in Cyprus. Desdemona follows her husband to the island, along with Othello's ensign, Iago, and his wife, Emilia. As the conflict abroad subsides, mischief at the camp ensues. Iago feels overlooked in rank and society, and plots to destroy Othello and his newly promoted lieutenant, Cassio. Through a series of underhanded manipulations, Iago convinces Othello that Cassio is unworthy of his position, and that Desdemona is unfaithful. Consumed by jealousy and doubt, Othello murders his wife and takes his own life.
Othello is a nightmarish tragedy that deals with racial vilification, gender issues and domestic violence. It was not until late in the 20th century that the tradition of white actors playing the role of Othello in 'blackface' was abandoned.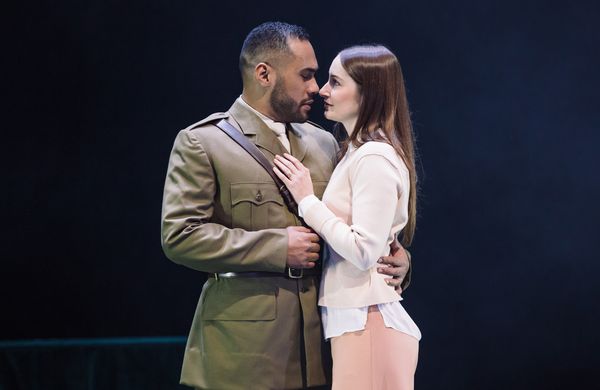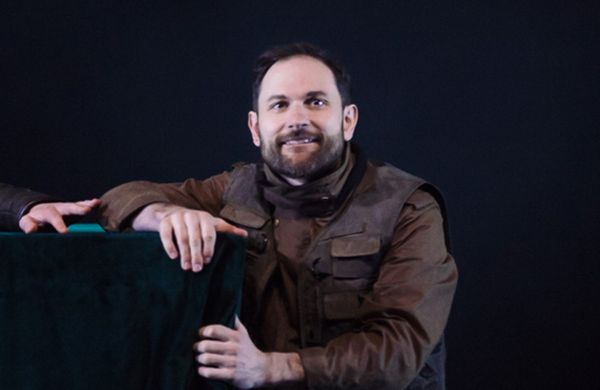 Read synopsis in full

Read synopsis in full
I am not what I am.
Iago, Act 1, Scene 1
It is evening in Venice, Italy. A lowly ensign, Iago, complains to a gentleman, Roderigo, of his hatred for his General, Othello. Othello has promoted another soldier, Michael Cassio, to the role of Lieutenant, and Iago, feeling he has been overlooked, desires revenge.
Othello, a Moor, has secretly married Desdemona, the daughter of Senator Brabantio. As Roderigo is in love with Desdemona, Iago recruits him to tell Brabantio of his daughter's marriage. Brabantio is outraged and calls for Othello's arrest. Brabantio has Othello brought before the Duke of Venice and accuses him of using sorcery to entrap his daughter. Othello and Desdemona defend their genuine courtship and love. Their proclamation wins over the Duke who gives the marriage his blessing.
At this same time, there is an imminent threat of attack on Cyprus from the Turkish forces. Othello is called to lead the defense and must depart for Cyprus immediately. Desdemona, rather than stay with her father, chooses to follow her new husband to Cyprus. Othello entrusts Desdemona to Iago and Iago's wife, Emilia, to make the journey together. Brabantio warns Othello that as Desdemona has deceived her father, she may deceive her husband.
Meanwhile, Iago convinces Roderigo that if he travels to Cyprus, bringing lots of money, Iago will secure Desdemona's heart for him. Roderigo agrees to the plan, securing the funds for Iago's secret motives. In a soliloquy, Iago shares that he plans to use Othello's trusting nature to his advantage, and involve Cassio in his plans.
Reputation, reputation, reputation! Oh, I have lost my reputation!
Cassio, Act 2, Scene 4
Montano, the Governor of Cyprus, greets Cassio, Iago, Desdemona, Emilia and Roderigo on their arrival. They receive news that the Turkish fleets are drowned, and the wars are therefore over. Iago observes Cassio's courteous treatment of Desdemona on her arrival to the island and realises he can use this to his advantage.
Othello then arrives safely and calls for a celebration to mark their victory and his recent marriage. The hapless Roderigo doubts his plans to woo Desdemona, but Iago fills him with confidence. Iago also fills Roderigo's mind with the idea that Desdemona loves Cassio, so that he can convince him to duel with Cassio.
During the evening, Iago convinces Cassio to drink, knowing his low tolerance for alcohol. Roderigo picks a fight with Cassio. Montano intercedes and is wounded by Cassio while trying to restrain him. Othello is roused from his bed and he berates Cassio, stripping him of his role.
Cassio bemoans the loss of his reputation. Iago, feigning friendly support, advises Cassio that he should regain favour with Othello through Desdemona. Cassio accepts the advice gratefully. Meanwhile, Roderigo is becoming impatient, but Iago manages to suppress his growing suspicions.
O, beware, my lord, of jealousy:
It is the green-eyed monster which doth mock
The meat it feeds on.
Iago, Act 3, Scene 3
Iago's wife, Emilia, organises for Cassio to meet with Desdemona. She vows to help Cassio regain his reputation and reinstate his rank, by defending him to Othello.
Othello and Iago then arrive and Cassio, feeling guilty for his actions the night before, rushes away. Iago notes Cassio's swift exit from speaking with Desdemona, and mentions it to Othello to raise suspicion. Desdemona speaks with her husband about Cassio, insisting that Othello consider pardoning him. Othello agrees to speak with him, if it will please his wife.
When Desdemona leaves the room, Iago begins asking Othello questions about the nature of Cassio's friendship with his wife. Othello says they have long known each other and becomes increasingly infuriated by Iago's cryptic conversation. Othello demands to know Iago's thoughts, and Iago plants the seed in Othello's mind that Cassio and Desdemona are having an affair. Othello is grateful to Iago for the information, but defends his wife's honour and says he needs evidence before condemning her.
On their next meeting, Othello is short with Desdemona. She attempts to comfort him, but he brushes her aside and she drops a handkerchief embroidered with strawberries, her first cherished gift from Othello. Emilia finds it and gives it to Iago, after he insists she hand it over. Iago plants the handkerchief in Cassio's room. Iago informs Othello that he has not only seen Cassio with the handkerchief, but he has heard him talk of Desdemona in his sleep. Othello promotes Iago because of his perceived loyalty.
Othello asks Desdemona to produce the handkerchief, yet she can't find it, and continues to plead for Cassio's innocence. This further raises Othello's suspicions about Desdemona's unfaithfulness. Cassio, ignorant of who owns the handkerchief, gives it to his girlfriend, Bianca, a courtesan.
Let husbands know
Their wives have sense like them...
Emilia, Act 4, Scene 3
Iago tells Othello to observe a conversation between himself and Cassio. Iago says he will get Cassio to speak about his affair with Desdemona so Othello can overhear. However, Iago lowers his voice to ask Cassio about his relationship with Bianca. As Cassio laughs dismissively about Bianca, Othello believes he is speaking about Desdemona, and his rage grows. Bianca then arrives to return the handkerchief to Cassio, believing it to be another woman's, and Othello is convinced of Desdemona's guilt.
Othello is now consumed with jealousy. He orders Iago to kill Cassio and takes Iago's advice to strangle Desdemona in their marriage bed. Othello strikes Desdemona in public, in front of her kinsman Lodovico. He then refuses to hear Emilia's pleas for his wife's innocence, and directly accuses Desdemona of infidelity. Emilia and Desdemona share their grief with Iago and ask for his honest advice with regards to Othello.
With his fortune dwindling and no hope of Desdemona's love, Roderigo is growing tired and suspicious of Iago. He threatens to confront Desdemona, but Iago convinces him he must fight and kill Cassio to win her heart.
Not wanting to incense her husband further, Desdemona does as Othello instructs and retires to her bed chamber. Emilia dresses her for bed and they discuss the fraught relationships between men and women.
Then must you speak
Of one that loved not wisely but too well.
Othello, Act 5, Scene 2
Carrying out Iago's plan, Roderigo attacks Cassio as he leaves Bianca's home. In the scuffle, Cassio wounds Roderigo and Iago wounds Cassio from behind so he is able to disguise himself. Overhearing the fight, Othello is pleased, convinced that Cassio must be dead, but he is merely wounded. Iago then kills the wounded Roderigo to cover his tracks, and the men and women go to Cassio's aid.
Othello then joins Desdemona in her bed chamber. He asks her to confess her sins and despite Desdemona's continued pleas of innocence, he smothers her in their bed. Emilia discovers this and calls for help. When others arrive, Othello says he has proof of her adultery and shows the handkerchief. Emilia realises that Iago has been the mastermind behind the tragic events and announces that her husband made her steal the handkerchief, proclaiming Desdemona's innocence. Iago kills Emilia.
Letters are found in Roderigo's pocket regarding Iago's plot to kill Cassio. Othello finally realises the truth, and he wounds Iago in anger. Iago is arrested and sent for trial, however says he will from that point forward not speak a word. Lamenting his terrible mistake and actions, Othello takes his own life. Venice is informed of the events and Cassio takes power in Cyprus.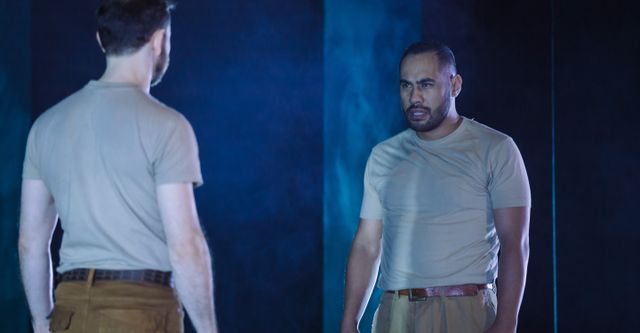 Fast facts
The words 'honest' and 'honesty' feature in the play over 50 times.

Themes
Discover the key themes explored in Othello, with examples from the play.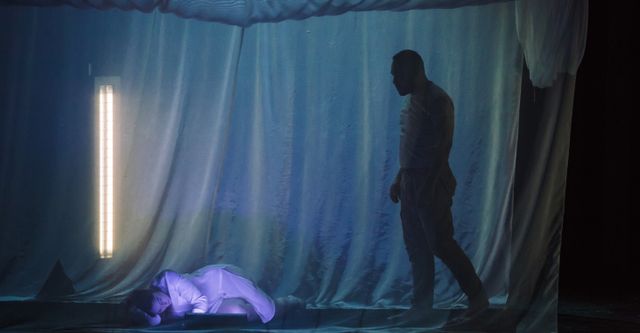 Debatable points
OTHELLO AND THE TREATMENT OF WOMEN
Othello is a problematic play in its depiction of gendered roles, misogyny and domestic violence against women. Should we see it? Do audiences want to see it? Should we step right up to the violence and show it for all its horror, or shy away from it? And moving forward, will it be seen as socially responsible to put it on stage?
Imagery
Discover how Shakespeare's uses vivid visual imagery in Othello.