This production of Shakespeare's fastest comedy sends us hurtling through time and space.
By Andy McLean
Shhh, don't say it too loudly. But when conspiracy theorists claim Shakespeare didn't pen his own plays, they're actually partly correct. Don't get me wrong; Shakespeare did write his scripts. But along the way he wasn't afraid to borrow from preexisting texts too.
Like a sort of Bard-ish bower bird, Shakespeare collected strands of old yarns and then transformed them for audiences into new, more spectacular things. (Also like a bower bird, Shakespeare wasn't averse to using things that were blue.)
LIGHT RELIEF AMONG THE SHADOWS
The Comedy of Errors was the first romp that Will wrote. He picked up the plot from Roman playwright Plautus, and then relocated the story to Ephesus – a setting he chose for its shadowy past. In the Bible, Ephesus was a place of evil spirits, demonic attacks, and mystical exorcisms.
Now, that might sound like the last place you'd pick for a comedy – but Will was casting spells of his own here. By placing his (Syracusan) characters in the enemy territory of Ephesus, Shakespeare raised the stakes tenfold. Right from the start, we empathise with Egeon, who – having lost all he holds dear – is now a stranger in a strange land. And the clock is immediately ticking in the race to save his own life.
But having tightened up the tension, Shakespeare then launches us into laughter. From mistaken identity to slapstick fights, Will knew that mishaps and absurdity shine extra bright when they're set against a dark and sinister backdrop. When he added the Dromios – his extra pair of long-lost identical twins – he added more reasons to laugh, to wince, and to sigh.
(Because whether we're talking about weddings, or deaths, or sets of twins, Shakespeare never stuck to one where you could have two.)
Next, he laced The Comedy of Errors with allusions to the weird and occult, to show just how freaked out his characters really are. As Professor Emma Smith from the University of Oxford has pointed out, The Comedy of Errors contains more mentions of witches and witchcraft than Macbeth, more mentions of conjuring and magic than A Midsummer Night's Dream, and more mentions of Satan and the devil than any other Shakespeare play.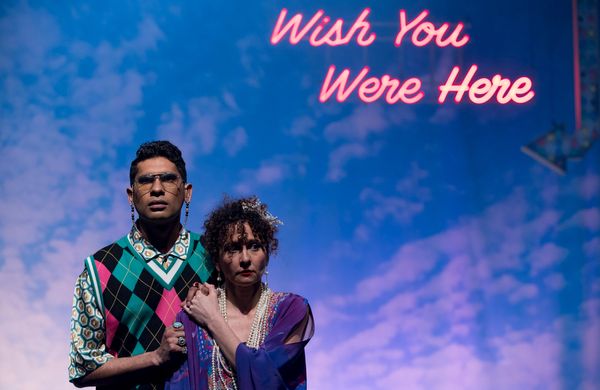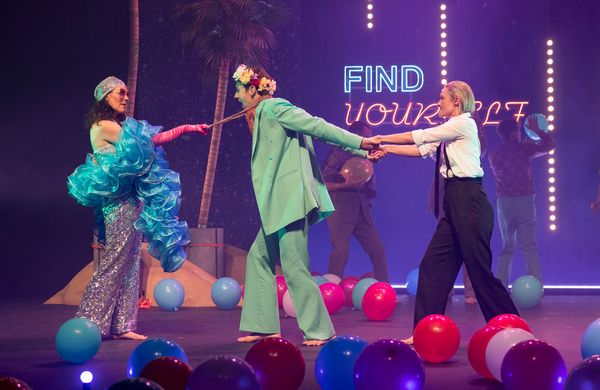 DARK DAYS AND BOOGIE NIGHTS
Given he relocated Plautus' original story, Will would probably approve of Bell Shakespeare's new staging of The Comedy of Errors, where Director Janine Watson transports us to the flash and bang of the 1970s – an era imbued with the same light and shade we find in the play.
This was the disco decade, remember, when John Travolta strutted across cinema screens in his tight white suit and teenagers plastered their walls with posters of Blondie, Led Zep, and the Ramones.
And so, in Bell Shakespeare's new production of Comedy, the giddy hedonism of the 1970s struts its stuff across Hugh O'Connor's set and costume design, especially when day turns to night and our characters lose themselves in hallucinatory confusion and romantic entanglements.
Notably, the 1970s was a time of social and cultural progress. It was the era when the feminist movement was turbo-charged by Germaine Greer's The Female Eunuch; the White Australia policy was finally dismantled; Sydney's first Mardi Gras was celebrated; and South Australia became the first Australian state to decriminalise homosexuality. This was also the decade when artists like David Bowie, T Rex and New York Dolls flirted with gender ambiguity. Traces of these cultural quantum leaps are sprinkled across Janine Watson's new production, from the non-binary Dromios, to the recasting of Luciana as a man – Luciano – who is charmed by who he thinks is his sister's husband.
Of course, it would be disingenuous to suggest the 1970s was all beer and skittles. Just like Ephesus, this era contained a comedy of terrors too.
The 1960s hippy dream had ended abruptly with violence at Altamont Festival and the Manson Family murders. Meanwhile, in Australia, the "birthday ballot" sent men to their deaths in the Vietnam War, with the horrors beamed – in lurid colour – into lounge rooms across the nation.
As the flower children grew up, the Iron Curtain remained impenetrable, and a constitutional meltdown led to the dismissal of the Whitlam government.
When in 1975 Pink Floyd asked, 'So, you think you can tell heaven from hell? Blue skies from pain?', few listeners could answer with any certainty. Similarly, in Janine Watson's 1970s-infused Comedy, when Antipholus of Syracuse asks, 'Am I in earth, in heaven, or in hell?' the only sensible answer is: all three.
Andy McLean is a Sydney-based writer and podcaster who grew up in Stratford-upon-Avon. His research for this article triggered 1970s childhood flashbacks of beige cars, orange furniture, and brown corduroy flares. www.andymclean.net
Listen to our 1970s-inspired playlistListen to our 1970s-inspired playlist