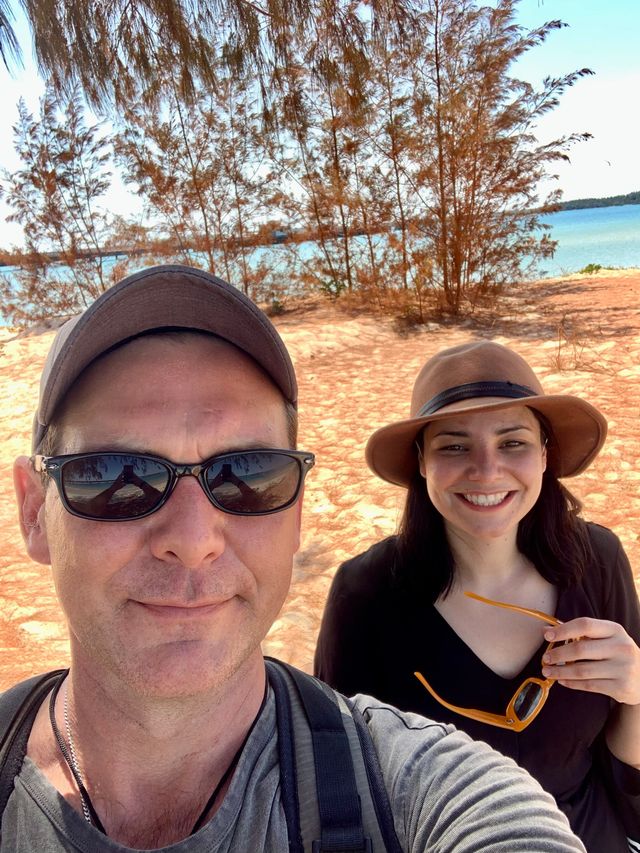 In October 2022, Bell Shakespeare Teaching Artists Emily Edwards and Paul Reichstein travelled to Nhulunbuy in the Northern Territory to deliver a one-week Artist in Residence program at Nhulunbuy High School.
Situated on the Gove Peninsula, Nhulunbuy is approximately a nine-hour drive from Katherine and around 280 students attend Nhulunbuy High School. This school is rather special to Bell Shakespeare- we have delivered residencies here in the past, and have had a number of teachers from this school participate in the Regional Teacher Mentorship. It was a privilege to be able to return in 2022, after a long delay from COVID-19, and work with this wonderful community once again. Our heartfelt thanks go out to Linda Herd and the Canny Quine Foundation for generously supporting this program. We asked Paul Reichstein to reflect on the experience of working with the students and community of Nhulunbuy High School.
What was your impression of the school and wider community? How would you describe the place and its people?
Nhulunbuy is a small, coastal environment – which I'm deeply familiar with, having been raised in the country. Everyone knows everyone and the school and wider community are beautifully connected. The people are kind, friendly, encouraging and the epitome of inclusivity. All the people here are proud and intimately supportive of the ancient history of the lands, waters, and the people whose stories go back tens of thousands of years. The love and support that all people have for the Yolngu people is at the heart of this town. There's a sense of family and a deep sense of love, particularly that I noticed in the school itself. But from the workers at grocery stores, to the hospitality industry and throughout the wider working community there was as a sense of welcoming for us. There was nothing people weren't willing to do for visitors.
Did you encounter any challenges? How did you manage these?
The only challenge, which was a completely benign one, was discipline and listening in our classes from time to time. But I viewed this as 'opportunity', rather than challenge. It's simply a set of taught skills and in turn comes to be respected by students who learn quickly. Their enthusiasm, gentleness and playfulness could too quickly be dismissed as 'difficult', but there's not one student who didn't step up to the plate to equally respect us as teachers and adults and to offer their fellow learners respect and kindness. There was no challenge we faced that didn't end up becoming a growth experience for them, and for us. We were kept on our toes and equally brought into a beautiful sense of family and community. These challenges are what makes this work worthwhile.